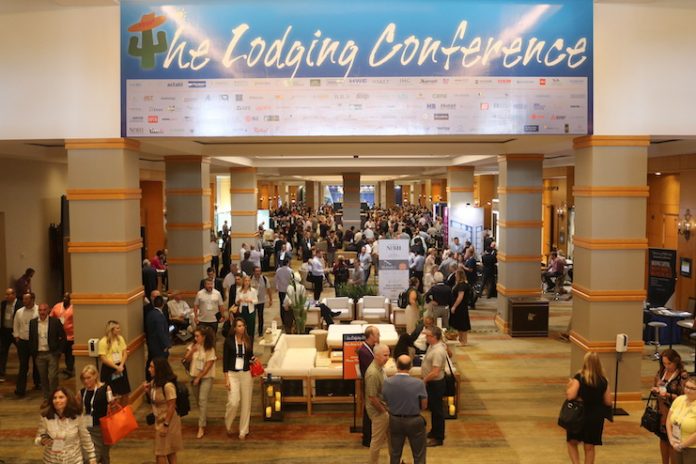 A La Conferencia de Alojamiento 2022líderes de la industria y profesionales se reunieron para discutir las tendencias de la industria, compartir nuevas concepts y establecer contactos con colegas y compañeros. ALOJAMIENTO habló con el socio y asesor sénior de Kalibri Labs, Mark Lomanno, luego del panel de sesión common "Pace ​​Stats Half II" en el que participó.
El mensaje common de las sesiones generales fue el regreso de la industria hotelera este año. ¿Podría dar más detalles sobre esa afirmación?
La industria está de vuelta desde la perspectiva de las tarifas de las habitaciones y el negocio del ocio es fuerte. Pero, si un hotelero depende de los viajes corporativos en grandes grupos, no está de vuelta. Los grandes hoteles en Chicago, San Francisco o Nueva York, por ejemplo, todavía están luchando. Y si depende de los viajes de negocios, como un resort de tamaño mediano en un área suburbana, probablemente todavía tenga dificultades. Entonces, en common, la industria es buena, aunque no del todo.
¿En qué medida se han recuperado los viajes de placer este año?
Si bien la demanda actual fue casi la misma que en 2019, la industria ha estado cobrando más. Entonces, desde el punto de vista de los ingresos, los viajes de placer parecen estar muy por delante de 2019. Pero se han visto impulsados ​​por precios superiores a la demanda, que es casi igual o ligeramente más fuerte que en 2019. Un issue clave es que los huéspedes están pagando un 20 por ciento más que lo hicieron en 2019. Eso es extremadamente positivo para la industria.
¿Cómo han cambiado los viajes de ocio tras la pandemia de COVID-19?
Los viajeros de ocio se quedan mucho más tiempo que antes. La persona promedio antes de la pandemia se quedaba alrededor de 1,9 noches. Ahora, el promedio es de 2,1 noches, lo que no parece mucho, pero lo es cuando hablas de tres millones de habitaciones vendidas todos los días.
¿Qué hay detrás de la tendencia hacia estancias más largas?
Viajes de placer. La gente puede trabajar desde cualquier lugar. Además, solía ser que los domingos y los jueves, los días del hombro, se comportaban como de lunes a miércoles. Ahora se comportan mucho más como los viernes y sábados. A la gente le gusta mezclar negocios y placer y se queda más tiempo. Esa es una nueva tendencia, y creo que se mantendrá así.
Además del aumento de los costos de construcción, ¿a qué otros desafíos se enfrentan los desarrolladores?
En muchos lugares, es más difícil construir algo. La obtención de permisos es más difícil porque los residentes están mucho más dispuestos a hacerse oír. Están en casa más a menudo ahora [due to the remote work trend]para que puedan ir a las reuniones de planificación y decir: "No quiero que se construya allí".